We offer two separate wireless applications: our Driver Wireless System, created for integration with vehicle transport and delivery operations, and our YMS Wireless System, which has been developed as a vital, integrated component of yard, inventory and compound management.
Our wireless systems take advantage of the latest technology available using rugged industrial devices and Smartphones. Both systems will work with consumer-grade Smartphones, though there are a few major advantages in deploying a rugged industrial device. We are currently deploying wireless applications using the Android OS, but we also are working on compatibility with the Apple iOS environment.
This system works hand-in-hand with our TMS product.  For large fleets, it may also be purchased as a stand-alone product, and integrated with your existing (non-CargoTel) transport management system. Key features include:
Drivers receive dispatch and load information

Update the status of shipments (including bar code scan)

Receive load routing and GPS mapping

GPS based location updates sent to TMS

Scan and read barcodes from documents or vehicles

Detailed inspections, with templates for new or used car deliveries

Integrated photo capture, tied to damage/inspection entries

Electronic signatures and Proof of Delivery (ePOD)

Full integration of all real-time activities with TMS

(Optional) Show pay for independent owner-operators

(Optional) Can be configured to print documents (POD) to a mobile printer
See the slideshow for featured screenshots of our Driver Wireless System.
Driver Wireless System Slideshow
Click the screenshot below to view screenshots of our Driver Wireless System.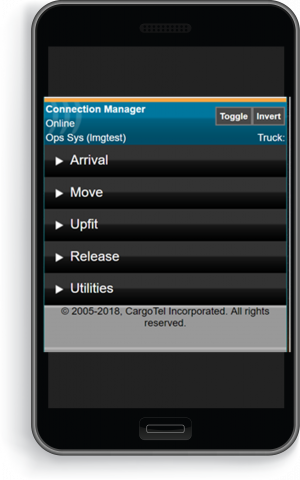 Our YMS Wireless application is a vital component of yard and inventory management, and offers the following key features:
Receipt of vehicle via port, rail or truck (including bar code scan)

Move or reposition to another yard or location under your control

Upfit:  perform additional services, especially for compounds

Task management

Inspections, with templates for new or used cars

Release of vehicle via:

Truck (internal company truck or 3rd party)

Rail, including Rail Car loading and unloading
Although our wireless applications will work well on consumer grade devices, there are several important considerations to be made when choosing your device.
Low cost but easy to break, especially in an industrial environment. Does not offer an integrated bar code reader, but instead relies on the device's camera to scan VINs.

Typically have a less powerful battery and antenna than an industrial device.

For the consumer market, Android puts out numerous updates to its OS.  These can interfere with the proper operation of your device, especially if those updates result in changes to required device settings.  On the other hand, industrial devices tend to standardize on a very stable version of Android, and any updates to that are generally minor.  
Recommendation: Android OS smartphones or tablets
Robust battery and antenna, rugged case (can be up to military spec), integrated bar code reader (1D or 2D, with RFID option).

Tend to be more expensive (10 to 30 percent) than consumer-grade devices, but better suited for industrial use.
Recommendation:  Motorola/Symbol/Zebra devices for hand held computing, which includes smartphone and tablet form factors